Sewage Transportation and Treatment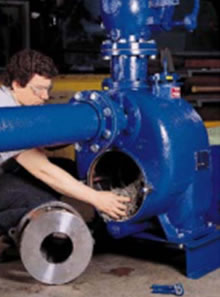 As we all known, there are many large particles containing in raw sewage, such as toilet paper, fabric, napkin, plastic bag, wood block, etc. These substances must be eliminated in the first step in sewage treatment to avoid the block and damage to the mechanical equipment in sewage treatment plant.
Our JJ series sewage pump is specially designed with concern on particularity and discharge capacity of the pump. There is a dirt discharging port engineered at the front of the pump, ensuring rapid and timely dirt cleaning. This range of product is quite suitable for the system with large sewage flow. Available for dry installation and immersing installation, our product has high reliability, which is conducive to the safe operation of the entire system.
Professional and considerate, DEFU is capable of offering complete solution for municipal sewage and industrial waste treatment and transportation system, as well as the stage treatment and centralized treatment system. The pump operation control device realizes the automatic operation. Requiring no periodic maintenance, our product can reduce the investment for operation cost for sewage pumping station.
The sewage pump is an ideal choice for source water pumping and treatment, and sewage transportation, treatment, circulation and discharge. We are willing to provide qualified product for municipal construction.