Underground Water Drawing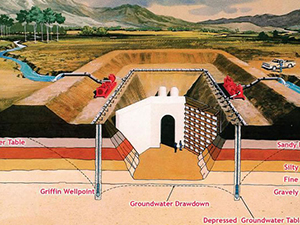 For underground water pumping, it is critically important to ensure energy optimization and sustainable development. Besides, the life circle cost shall be reduced, as well. Thus, an outstanding immersible pump is quite important to realize the said goals.
DEFU is able to offer long axle pump and self priming pump based on actual submerging depth. The maximum vertical height can be 13m. The high efficiency effectively reduces the operation cost. The outstanding reliability, durability and stability of our product will save the maintenance cost, accordingly.
The variation of underground water level is a knotty problem for well field optimization, which requires pump capable of managing large head. Our pump can be engineered with intellectualized system for unmanned operation. The 24-hour supervision and control on the operation guarantee the optimal stability of the pump.