Self Priming Oil Pump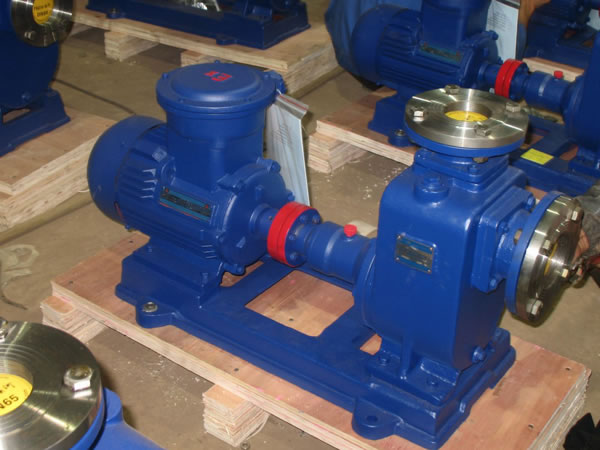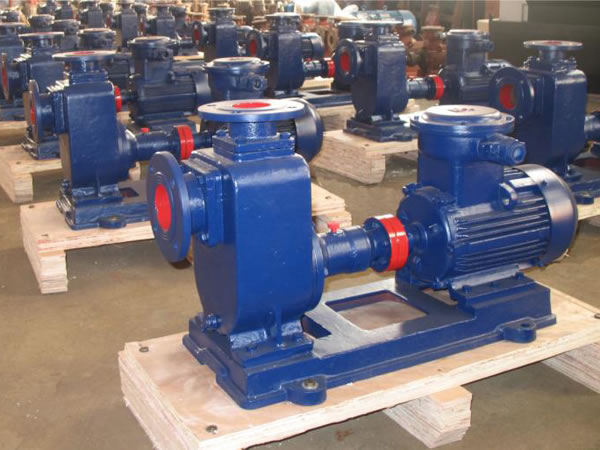 The maximum suction stroke of the self priming oil pump can reach up to 6.5m. The copper impeller, cast iron pump body, and the explosion-proof electric motor make it possible to transport various kinds of flammable and combustible mediums. Sturdy and durable, our corrosion resistant centrifugal pump is manufactured with cemented carbide mechanical seal. Generally, a standby mechanical seal is provided along with the machine.
Applications
1. Petroleum industry: the explosion proof pump can be used by on-land oil depot and oil tank truck for transporting gasoline, kerosene, diesel, aviation kerosene, etc.
2. Seawater or fresh water transportation: our self priming oil pump is suitable for the application on ships, being used as the cargo oil pump, bilge pump, fire pump or ballast pump. The medium temperature can be from -20°C to 80°C.
3. Chemical industry: the material of the pump body is selected depending on the pH value of the medium transported. Produced with corrosion resistant mechanical seal, our corrosive liquid transporting device can be employed for delivering chemical liquid like vitriol, hydrochloric acid, hydrogen nitrate, aqua regia, and some others.
Technical Parameters of Self Priming Oil Pump
Model
Range of Flow
Head (m)
Stroke (m)
Rotating Speed
Self- Priming Perfor- mance
Power (kW)
Caliber (mm)
Weight (kg)
(m3 /h)
(l/s)
(r/min)
(min/4m)
Shaft Power
Motor Power
Inlet
Outlet
25CYZ-A-20
3.2
0.9
20
6.5
2900
1.9
0.46
1.1
25
25
72
25CYZ-A-32
3.2
0.9
32
6.5
2900
1.8
0.8
1.5
25
25
80
40CYZ-A-20
6.3
1.8
20
6.5
2900
1.9
0.87
1.5
40
32
85
40CYZ-A-40
10
2.8
40
6.5
2900
1.5
2.7
4
40
32
138
50CYZ-A-12
15
4.2
12
6.5
2900
2.4
1.1
1.5
50
50
90
50CYZ-A-20
18
5
20
6.5
2900
1.9
1.8
2.2
50
50
98
50CYZ-A-30
20
5.6
30
6.5
2900
1.5
2.6
4
50
50
140
50CYZ-A-32
14
3.9
32
6.5
2900
1.5
2.7
4
50
50
145
50CYZ-A-40
10
2.8
40
6.5
2900
1.5
2.7
4
50
50
145
50CYZ-A-50
12.5
3.5
50
6.5
2900
1.4
4.3
5.5
50
50
160
50CYZ-A-60
15
4.2
60
6.5
2900
1.3
6.2
7.5
50
50
190
50CYZ-A-75
20
5.6
75
6.5
2900
1.3
9.8
11
50
50
240
65CYZ-A-15
30
8.3
15
6.5
2900
2
1.9
3
65
50
100
65CYZ-A-32
25
6.9
32
6
2900
1.5
4.4
5.5
65
50
165
80CYZ-A-13
35
9.7
13
6
2900
3.4
1.9
3
80
65
7
80CYZ-A-17
43
12
17
6
2900
1.8
3.1
4
80
65
156
80CYZ-A-22
40
11.1
22
6
2900
1.9
4.4
5.5
80
65
169
80CYZ-A-25
50
13.9
25
6
2900
1.5
5.2
7.5
80
65
177
80CYZ-A-32
50
13.9
32
6
2900
1.5
6.8
7.5
80
65
180
80CYZ-A-55
60
16.7
50
6
2900
1.5
15
18.5
80
65
310
80CYZ-A-70
60
16.7
70
6
2900
1.2
20.1
22
80
80
333
100CYZ-A-20
100
27.8
20
6
2900
1.8
7.8
11
100
100
258
100CYZ-A-40
100
27.8
40
6
2900
1.8
16.3
18.5
100
100
455
100CYZ-A-40A
100
27.8
32
6
1450
1.5
18.5
15
100
100
520
100CYZ-A-65
100
27.8
65
6
2900
1.8
27.7
30
100
100
620
100CYZ-A-75
70
19.4
75
6
2900
1.8
24.2
30
100
100
639
150CYZ-A-55
170
47.2
55
5
2900
1.8
39.2
45
150
100
830
150CYZ-A-65
170
47.2
65
5
2900
1.3
46.3
55
150
100
957
150CYZ-A-65A
170
47.2
65
5
1450
1.2
49.8
55
150
100
1138
150CYZ-A-80
160
44.4
80
5
2900
1.2
53.6
55
150
100
986
200CYZ-A-32
400
111.1
32
5
1450
2
52.1
55
200
200
1205
200CYZ-A-63
280
77.8
63
5
1450
1.5
73.9
90
200
200
1338
200CYZ-A-65
350
97.2
65
5
1450
1.5
97.2
110
200
200
1553
250CYZ-A-32
550
152.8
32
5
1450
2
72.3
75
250
250
1307
250CYZ-A-50
400
111.1
50
5
1450
2
80
90
250
250
1486
250CYZ-A-55
450
125
55
5
1450
2
102.1
110
250
250
1681
250CYZ-A-75
400
111.1
75
5
1450
1.5
125.6
132
250
250
1829
300CYZ-A-32
600
166.7
32
5
1450
2
79.2
90
300
300
1608
300CYZ-A-50
500
138.9
50
5
1450
2
104.6
110
300
300
1728
300CYZ-A-55
550
152.8
55
5
1450
2
117.6
132
300
300
1995
Related Names
Oil Pump | Fuel Pump | Self Priming Pump | Diesel Pump | Centrifugal Pump | Gas Pump | Self Priming Centrifugal Pump