HD/SB Series
Liquid Transfer Drum Pump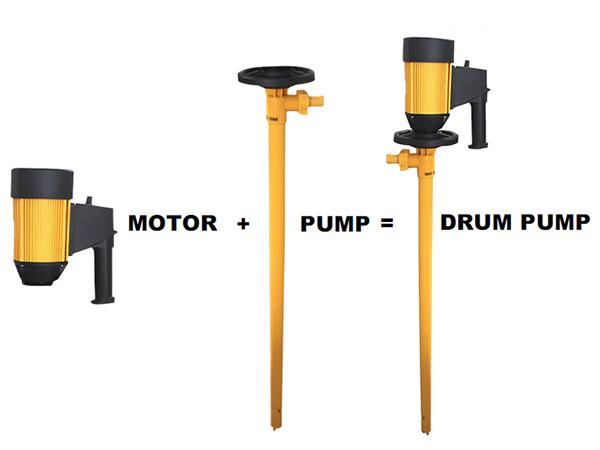 The liquid transfer drum pump is a kind of barrel pump. The pump tube can be directly put into the drum to pump liquid. As per different transferring liquid, the flow passage components can be made from Aluminum Alloy, Stainless Steel, PP, RPP, PVDF Material. The driving motor can be single phase common motor, Ex-proof motor, brushless motor & high-speed motor for option. This drum pump features easy use, maintenance and high efficiency.
Applications:
This drum pump is widely used to transfer some low-viscosity liquids in extensive fields of petrochemical, refinery, food, petro oil, marine, pharmacy, filling station etc.

Pump Performance
Max. temperature
100℃(212℉)
Max. viscosity
1200CPS
Max. power
1.1KW(1100W)
Max. speed
12000r/min
Max. flow rate
165L/min
Max. head
28m
Pump tube length
700mm(27''), 1000mm(39"), 1200mm(47"), 1500mm(60")
Pump tube material
PPHT - Polypropylene
Acid and alkaline substances, like acetic acid, ammonium, sodium hydroxide.
PVDF - Polyvinylidene Fluoride PVDF
Highly corrosive and toxic substances, like hydrofluoric acid, sulfuric acid, nitric acid, sodium hypochlorite
SS - Stainless Steel 304 or Stainless Steel 316L
Flammable or inflammable substances: diesel oil, gasoline, all kinds of oil, inhibiting agents and alcohol.
AL - Aluminum Alloy
Weakly corrosive sewage, diesel oil, low-viscosity oil and lubricating oil.
Motor Performance
| | | | | | |
| --- | --- | --- | --- | --- | --- |
| Motor Model | Motor Model Meaning | Voltage | Speed | Frequency | Power |
| HD-E2-V | Variable speed control motor | 220V | 0-10000r/min | 50-60Hz | 800W |
| HD-EX2-V(SB-3) | Explosion-proof motor | 220V | 12000r/min | 50-60Hz | 880W |
| HD-A1 | Air motor | | 0-10000r/min | 3-7bar | 375W |
| SB-1100W | High-speed motor | 220V | 10000r/min | 50-60Hz | 1100W |
| SB-880W | High-speed motor | 220V | 10000r/min | 50-60Hz | 880W |
| SB-550W | High-speed motor | 220V | 8000r/min | 50-60Hz | 550W |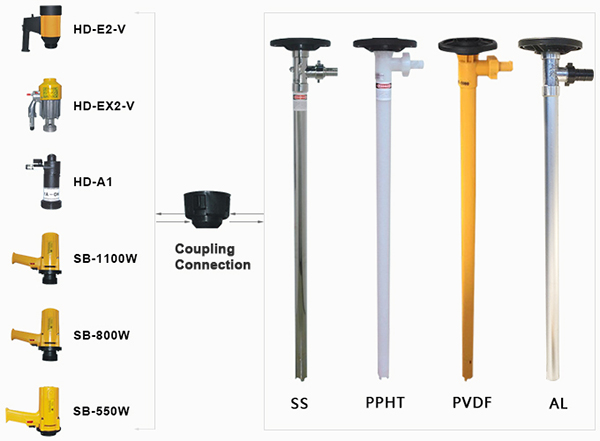 Related Names
Electric Drum Pump | Barrel Pump | Chemical Pump | Oil Pump